Back The Winner For Melbourne Cup With Our Event Designer In The Saddle
We all know that the Melbourne Cup Carnival's allure is truly magnetic. The 'race that stops a nation' usually manages to stop a few other countries across the globe too with its equine allure. Those thundering hooves, the clink and fizz of bubbles in champagne flutes, not to mention the array of (sometimes hair-raisingly hideous) millinery found trackside is enough to set us all off. You might indeed need to have a quick tooth cleaning session after devouring all this greasy millinery fry up. And you definitely wouldn't be squeezing into your streamlined racing dress either…
In terms of sharing brand love, aside from the boudoir, there are probably few places that say to your guests "I love you" more than inviting them trackside to your own bespoke marquee. Enter our Event Designer to conjure up some equestrian magic in your blank white canvas marquee. Our team is on hand to create something beautiful and bespoke, but above all, to underpin your brand's identity and immerse your guests in your brand's ethos. You can have so much fun with your racing marquee and its identity. It truly brings guests together as well as bringing your brand alive.
Now as you diehard blog readers out there know (are they any such people out there???), ENGAGE believes in sharing the o'erflowing Winners Cup when praise is due, so here are a few of the more stunningly designed marquee concoctions from the last few years at Flemington:
AUTUMN WHISKY
This wonderfully opulent, fruity marquee (above) was designed for the Johnnie Walker Birdcage enclosure marquee. Ripe, hanging fruits, sparkling chandeliers and Autumn foliage added to the decadence of the space.
WINTER BUBBLES
An alluring den of bubbles and mirrors was the theme for Moet & Chandon's Event Designer back in 2005. Very wintry and clean in its lines, guests drank their bodyweight in bubbles no doubt.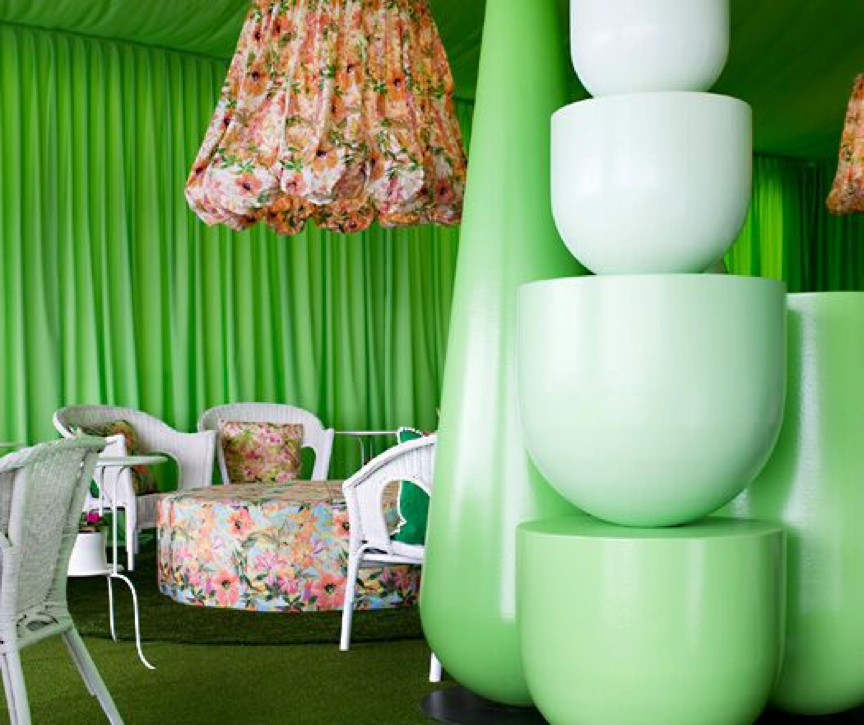 CLEAN AND GREEN
Village Green was the theme that inspired this fresh, floral palette concoted by the Event Designer at Bttb and Hecker Guthrie a few years back.
Concocted by our very own in-house Event Designer at ENGAGE, for Gai Waterhouse.
STRIPEY GRASS
This floral, quirky racing theme with English roses and bouquets of grass was concocted by our very own inhouse Event Designer at ENGAGE, for Gai Waterhouse, at Melbourne Cup Carnival recently.
But really, you ain't seen nothing yet… And I'm not going to spoil all the veritable surprises that ENGAGE has to offer up on the Marquee Menu for the 2016 Melbourne Cup. However, unable as I am to keep most surprises surprises, here's a sneak preview of the mood board for one of our marquees this year:
EQUISTYLE
Picture decadent English Ascot racing in the late 1800s, sprinkle on a dash of opulence and frivolity, wrap in a bed of English roses, grab your whip and add a Vivienne Westwood bustle for fun. How risqué and perfect a theme can you get?
So, yes – as you've seen, the ENGAGE team can tailor everything for a perfect day out at the races. From menu curation and invite design to marquee creative and racebook cover design. Check out the packages for 2016 here!
Every well-bred mare (and stallion) knows that the winning post is where history is made (and fetlocks sometimes broken). Your brand could be brushing manes with the hot insider favourite in this enclosure. JUST IMAGINE!
These marquees put you and your guests slap bang at the side of the race course, where you can hear hooves thundering down the track, see the breath steaming from the race horses and feel the electric tension as they gallop past your marquee.
I leave you with the hilariously shocking trackside words of phonetics student, Eliza Doolittle (Audrey Hepburn) at the Ascot races, in the 1964 film My Fair Lady: "Come on Dover. Come on Dover. Come on. COME ON DOVER. MOVE YOUR BLOOMIN' ARSE!"
You have to watch it if you've never seen it. In its entirety. But for now… Here's that clip. Excuse the bad synching and quality – old school VHS no doubt.